Coworking spaces have exploded in popularity since 2011, rising by over 1000% in 6 years. The total number in the world is now close to 14,000 and Britain has been just as affected by the new craze as anywhere else.
These spaces are great for solo entrepreneurs, small businesses or remote workers, so it's no surprise that they're springing up across the UK, from Edinburgh to Southampton. We've picked 10 coworking highlights across 9 different cities to start you off if you're looking for somewhere new to work.
FEATURED SPACE – Leeds – Duke Studios
"Duke Studios is an open collaborative space in the City Centre of Leeds for those working exclusively in the creative industries. With a company motto of people first, business second, Duke is not your usual work space provider. Based around a Coworking model, Duke Studios provides a range of workspaces, creative services and facilities.
"It is an inspiring, exciting and inclusive space in which creative individuals across different sectors can work. It is a creative hub that facilitates knowledge exchange, encourages networking and sparks collaboration on joint projects."
Duke Studio's ethos
The ethos of this coworking space, set in the heart of one of the country's most innovative, forward-thinking cities, can be broken down into several key points:
Create inspirational places for work and play.

Look out for each other, collaborate and be stronger together.

Champion the creative and independent sectors of Leeds.

Nurture and provide opportunities for creative talent.

Always welcome new people.

Create great partnerships.

Do really great stuff.

Work hard and be nice to people.
This modern environment combines exposed brick walls with pool tables, hammocks, Playstation 4s and a 220" cinema screen. Those are some perks, but at its heart this space is one big loft with a load of desks waiting for creative people. 1 month would cost £295 all inclusive of bills for a single desk. With a focus on collaboration and creativity, this might not be the best option if you're looking for somewhere to get your head down
Staying in the north of England, this coworking space is based in Liverpool's Creative Quarter and is home to a range of creative professionals, from architects to animators and software developers. The flexible space offers multiple membership plans to suit a range of business needs and round the clock access to allow clients to work whenever they need to.
Nottingham – Accelerate Places
Accelerate Places is more than just a coworking space – it's a series of hubs designed to give startups the facilities and training they need to grow their business successfully. Alongside the physical space, which includes dedicated desks and collaborative areas, members have access to a variety of advisory and training programmes to help expand their business knowledge.
FEATURED SPACE: Bristol – Desklodge
"The DeskLodge vision is to make coworking spaces the future of working, a space to network and encourage productivity through fun spaces and super convenient locations for commuters and locals. Whether you work for a start-up, an established company, or you're a freelancer – DeskLodge aims to provide amazing flexible options for all and a better way of working.
"Things have changed: we no longer need our own desk. It's been a hard slog but people are now used to the idea of coworking and being mobile – they do not need the same daily routine and to be looking at the same four walls. We have adapted to the change and the opportunity technology has given us to completely improve the way we work."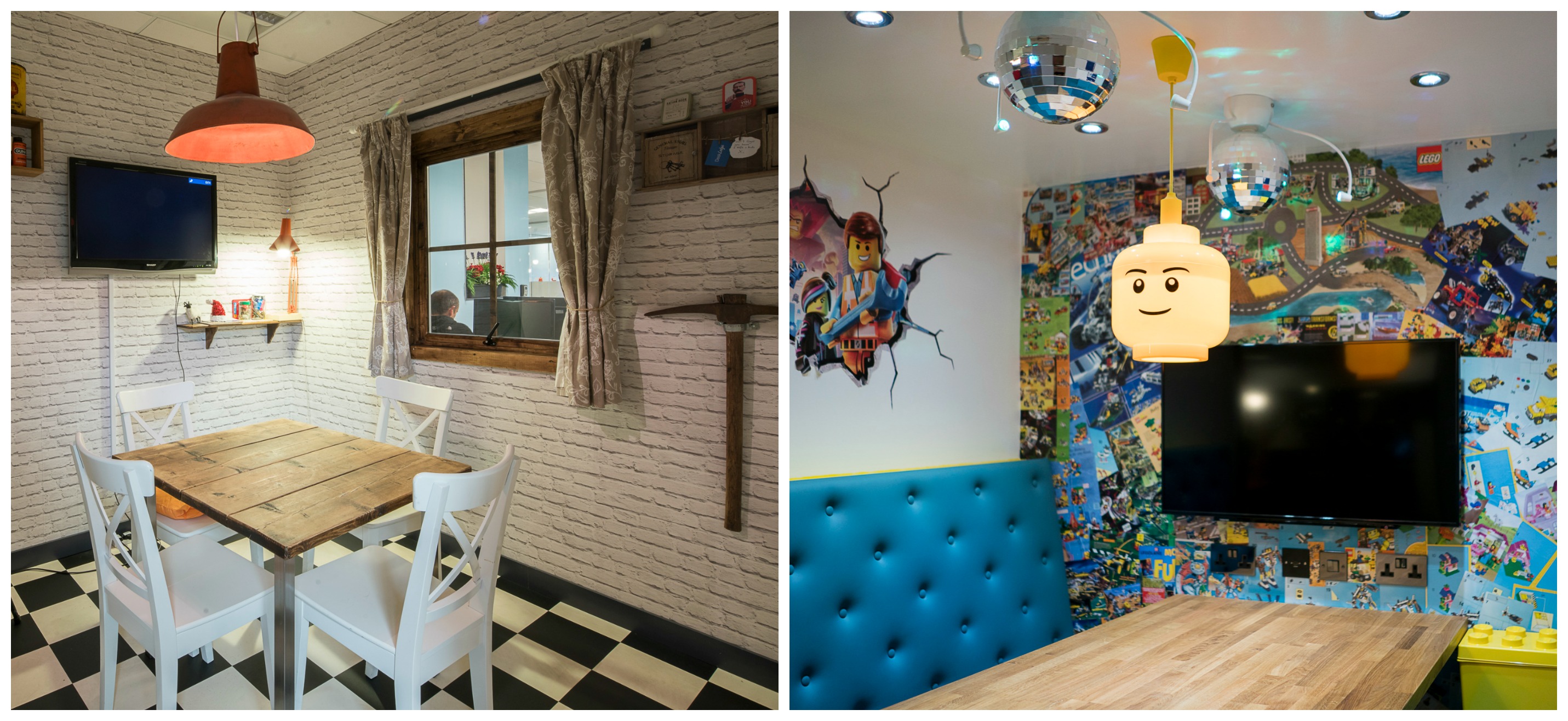 What makes DeskLodge stand out?
"At Desklodge you have the opportunity to start small as a hotdesker and even pay by the hour. As your business expands you have the option to move on into more permanent fixed desks or private office spaces within the coworking space itself. We thrive on driving engagement and collaboration in our spaces, so we build awesome communities by creating a great working environment with a place to network, expand and recruit.
"Then there is our décor and style – each DeskLodge is built wonderfully different but with the same ethos behind it. We create a warm welcome from our staff team, quirky work spaces, themed meeting rooms, casual meeting and phone booths, and relaxing break out spots. All of this comes with super fast internet, bean to cup coffee, excellent kitchen facilities and a relaxed and friendly vibe with plenty of chances to meet like-minded people."
Just a 15 minute walk from Birmingham New Street station is the city's Impact Hub, a space for those who are 'willing to dream, dare and have a heart for a better Birmingham.' The light, colourful space is perfect for entrepreneurs and creatives who are looking for somewhere to work and share ideas. With plenty of space for meetings and discussion, the Impact Hub can be a place to get your head down and work or to collaborate and share ideas with other likeminded people.
North Central London – The Green House
You can try this space for 3 days commitment free – they seem to be confident that you'll be hooked from then on! Situated in the heart of Hackney their prices start from £99 a month with groups of five able to pay £750 for an office space. Its single glass roof give it an attractive, contemporary look as well as allowing lots of natural light to keep workers fresh and motivated.
West London – Second Home, Holland Park
This one is opening in autumn 2017 and has a big focus on nature to match the season. Defining themselves as a creative workspace and photography space, this is an office with a difference. Plants are everywhere, softening the industrial buzz of London and giving you a natural, relaxing work environment. Prices are available upon request and applications for rented space are currently being considered. This is a space a little bit different from your traditional desk and chair!
Running regular workshops for the businesses it hosts, The Work Stead wants to look after its clients with a more traditional office set up. The company also offers a Coworking Women Day once a month helping women focus their business skills and creativity. Hot desking is priced at £24 a day with meeting rooms coming in at £25 an hour with a minimum of 2 hours.
One of the first coworking spaces in Edinburgh and the world, it's offices like the Melting Pot that contributed to Edinburgh being named Britain's Entrepreneurial City of the Year in 2016. Offering everything from hotdesking to fixed desks to venue hire for events, the Melting Pot aims to be everything that the creative business community of the Scottish capital needs to network and grow.