If you're looking for an API which can provide you with company data at your fingers then we have just the thing. We know we're biased but our API offers so many things, with information on over 20 million company director records across the UK and Ireland. We use all of our own data enabling you to integrate over 150 different fields into your own software and bespoke applications, with stats going back over 20 years – it's no wonder our customers love it so much!
What data does the API provide? 
Our API can be used for instant access to the following, among many other things:
Key business financials

Credit scores

Shareholder information

Directors and secretaries

Trading addresses

Mortgages and CCJs (County Court Judgments)
You can query the data by using boolean, string and number searches – with the freedom to be as flexible or as narrow as you need. We have added multiple fields into the search engine too, to allow you to derive highly accurate results based on multiple criteria. For example, you can search for a list of companies within a specific postcode that have a turnover of between £7 million and £8 million or a certain SIC Code. Data can then be exported, opened and saved in various different formats.
What can the tool help with? 
Here are some common scenarios where you may wish to use Company Check's API:
Due diligence

– Credit check existing and potential clients within your company's existing systems.

Finance

– Review the financial status of clients, suppliers and prospects.

Sales

– Generate new leads using up-to-date prospect data.

Marketing

– Cleanse and append new data to existing user lists.

Development

– Power your apps with real-time data and analytics.
Read our API JSON documentation and API XML Documentation pages for more details on how to integrate Company Check's API into your CRM.  
What our customers say
Here are two testimonials from clients that have used, and love our product:
"Your API integrates like poetry and it's absolutely perfect for our business requirements. I first tested with the testing API using your supplied documentation, to check the connection code, which worked fine. I then tested the full XML file to check to code which reads the file, which worked fine! So I'm happy to now put these two pieces together and get it all integrated. I can't believe how easy it is to integrate with, and matches our requirements 100%." – Will Anderston, web manager at BST Detectable Products
"We'd tried out a number of API or integration services, but the Company Check system stood out for us. It's easy to use, the Company Check team have been nothing but helpful and have always been on hand to respond to our questions. We were given a tailored service and continue to receive it; we couldn't recommend their API enough." – Toby Austin, founder of UKFunders
Sign up and pricing
The Company Check API is powered on the popular Mashape platform https://market.mashape.com/companycheck. Used by over 140k developers worldwide, Mashape seamlessly handles everything from billing, to the endpoints you connect to.
Cost depends on the volume and level of information you need, although the basic API is 100% free. Here's a breakdown of our current pricing structure: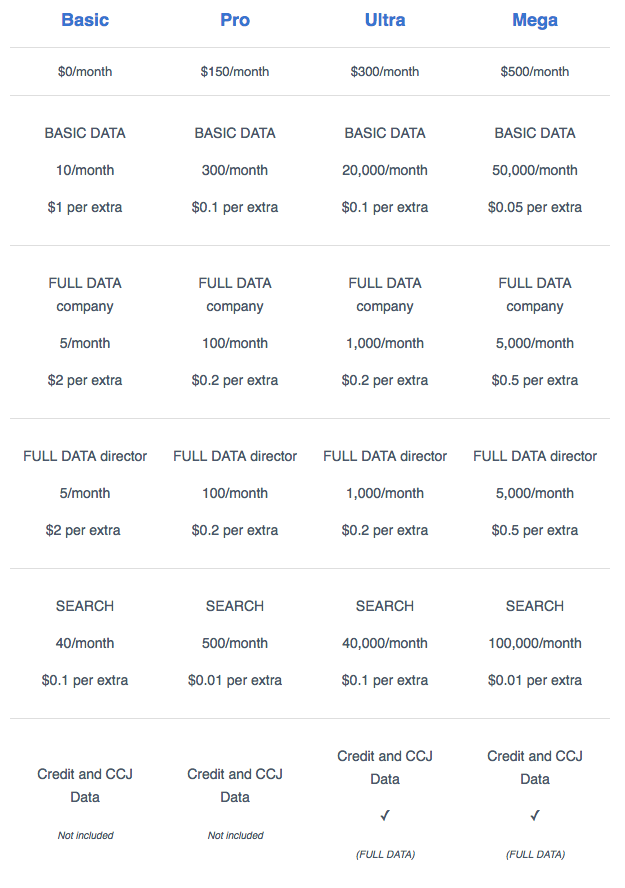 We also offer bespoke solutions to suit individual business needs, contact us at api@companycheck.co.uk to see how we can help.