Financial risk is an expected part of any business journey. Whenever a company works with other businesses or with consumers, in the UK or overseas, its owners accept the level of financial risk that they're prepared to take and then do all they can to negate it. We recently asked members of the Company Check Community to tell us about their experience of financial risk and how they manage it day-to-day in their businesses. Here, we outline those findings and provide tips and advice from financial experts to help you protect your company from financial risk.
Financial risk survey

68% of business have had to deal with late payments. 
Late payments are a real issue for businesses and 68% of the companies asked said they had to deal with late payments. The clear risk with late payments is that they affect cash flow and can leave business owners in difficult positions when it comes to meeting their own payment obligations or ambitions for growth. In cases where payment dates are closely tied in with business deadlines, companies can find themselves having to default on their own payments because people have failed to pay them; proof that the problem is complex and can quickly spiral out of control.

53% of businesses have had to write off bad debts
Even worse that late payment is no payment at all. 53% of our survey respondents said they had, in the past, written off bad debts. This is a difficult decision to make, but for too many firms there comes a point where chasing isn't working, is taking up valuable business time and cost and it makes more sense for them to write it off and move on. However, if the only alternative for a firm is a costly court procedure, writing off the debt may actually seem like the cheaper, easier option.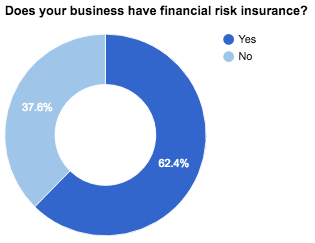 63% of businesses do not insure themselves against financial risk
These are turbulent financial times. Uncertainty around 'Brexit' is just the latest in a long line of financially challenging events which businesses have to face. Financial risk isn't just dictated by national or global market happenings though. Businesses of all sizes are at risk of financial issues every day, through failed payments, business debts or security issues.
Despite all this though, 63% of the businesses surveyed said they did not insure their businesses against financial risk. While it's unclear from this poll how many of these companies plan to do so in the near future, this striking statistic reveals the potential dangers businesses are exposing themselves to every day. If you're not currently insured, all is not lost! Insuring your business is a relatively simple process.
Financial risk in small businesses: FSB report
The FSB (Federation for Small Business) conducted its own research around the state of financial risk in the UK. Its findings, released last year, found that:
57% of small firms are affected by late payments
43% of firms said they have waited over 90 days after the agreed payment date before getting their money
The average sum outstanding is £31,901
£32.4 billion was owed in 2015
One in four SMEs go bankrupt if the average sum outstanding grows to £50,000
Financial risk is an important issue for small businesses and the Government has taken note of this in the form of the Prompt Payment Code.
"We must do everything we can to help small businesses tackle late payments.  Small businesses simply can't be expected to lend interest free to their customers, which is in effect what extended payment terms and late payments results in.  This is as much a policy issue as it is a cultural problem within UK business. Small firms need confidence to charge interest and complain about late payments. The fear among the smallest firms, particularly when dealing with larger firms, is that complaining about late payment could result is lost future work which will harm cash-flow for their business."
Natalie Gasson, Federation of Small Businesses
What constitutes financial risk?
Financial risk affects businesses of all shapes and sizes. According to data from the FSB, the financial risks faced by firms are predominantly in the form of:
Cash flow
Late payments
Poor planning of financial projections
Foreign currency exchange rates
Monitoring financial risk
You can protect your business further against financial risk by monitoring the finances of the companies you do business with. This is really important as it allows you to spot any dangers early on and protect your business proactively, rather than waiting for problems to come to you.
65% of the businesses we surveyed said they did monitor financial risk. This means they check out the credit risk of businesses they're working with and are able to spot any potential issues early on (Company Check offers a dashboard facility to help firms do just that). That said, 35% of businesses were not. If you're one of them, here's what you need to be looking for when monitoring financial risk:
Years trading: Check out how many years the company's been trading for – it's not the be all and end all but it's good indication
Compare assets to liabilities: if the latter is higher that the former for one year or more, that could indicate that there are large bank loans outstanding, high wage costs or mismanagement
Check out the business' directors: Are they easy to find, and do any of them have closed or resigned directorships, or have they been involved in businesses which have since dissolved? This can happen for many different reasons (administration, wind up orders or voluntary liquidation) but it's important to know.
How to avoid late payments
There are various ways to avoid late payments, but don't take our word for it, trust the experts:
There are debt recovery tools available to help businesses that are struggling with late payments. Company Check provides its own debt collection service to subscribers which allows you to pursue the payment on a no win, no fee basis, whereby you only pay a small amount of the funds collected in the fee (so the fee is covered for you by the debtor).
Alastair Campbell, Company Check
Financial risk insurance – How to insure your business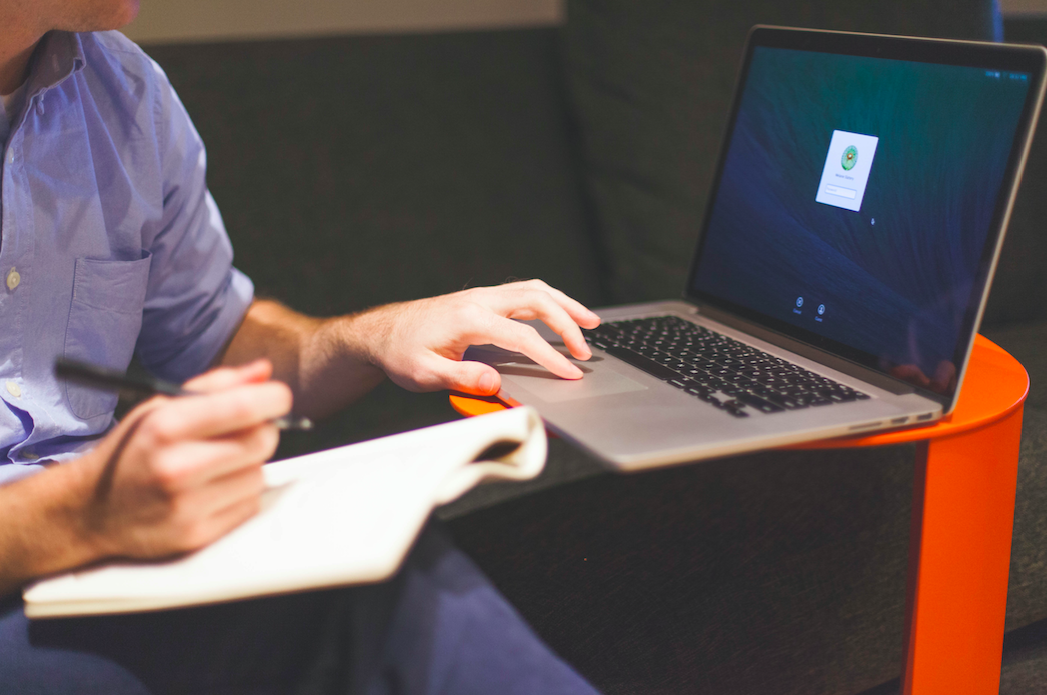 Prompt Payment Code
The Prompt Payment Code (PPC) was administered by the Chartered Institute of Credit Management on behalf of the Department for Business Innovation and Skills. The intention of PPC has been to set standards for payment practices and make sure those practices are upheld by UK businesses. Those who adhere to the code agree to pay suppliers on time, give clear guidance to suppliers and promote good practice themselves. They also agree to pay suppliers within a maximum of 60 days and to work toward a 30-day payment schedule.
However, only one in five businesses said they were confident of the PPC working and 60% said they would support a full and independent inquiry into poor payment practices. The FSB has called for the Small Business Commissioner to have greater powers in this respect, whilst the government's Small Business Act aims to further promote best practice.
Financial risk and you: the bottom line
The bottom line when it comes to financial risk is that everyone faces it, and it's impossible to eliminate that risk completely. Therefore each business must take responsibility for managing it themselves above anyone else. The risks each company faces differ depending on the type of business it is and the companies or clients they work we.
If you've faced financial risk or late payments in your business, our debt recovery tool is an effective, easy way of recovering those funds. You can also monitor the financial risk of firms you work with by following them on Company Check today; simply sign up from as little as £50 per year plus VAT and you can add companies to your Dashboard to be notified of any changes and stay ahead of the game.