Businesses react to The Chancellor's "next generation" 2016 Budget
George Osborne announced the UK Budget 2016 this afternoon, promising to "lower taxes for business and enterprise". However, did he deliver on his promise to the UK's small businesses and SMEs and the biggest challenges they're facing?
The Chancellor announced two big measures designed to help SMEs – raising the threshold for rates relief and reducing corporation tax. These grab the headlines and are undoubtedly good news for business. They also go some way to address some of the biggest issues raised by business leaders in our 2016 Business Census: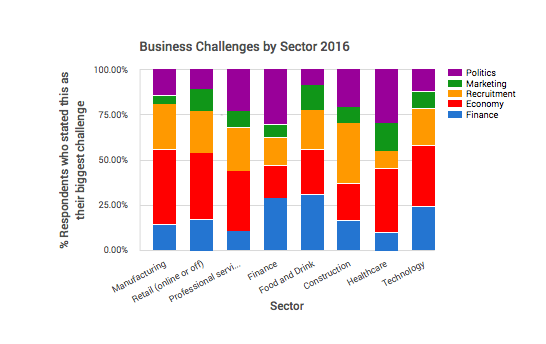 As the data shows, the economy remains a major concern for all businesses, as does 'politics'. These concerns, fuelled by external challenges like the EU referendum, American political uncertainty and the slowdown in China, will not be solved by one Budget alone.
Alastair Campbell, founder, Company Check, said: "For the most part, a satisfactory 2016 Budget from Mr Osborne. Lots of crowd pleasers such as cracking down on tax avoidance and freezing fuel and beer duties, but beyond that, the nitty gritty of the deal he dealt small businesses was inconclusive. Of course, raising the thresholds for small business rates and cutting corporation tax is a step in the right direction, but beyond that there wasn't much in there to address the issues facing startups such as recruitment, which we know is a major issue for lots of businesses. The apprenticeship levy introduced last year is still there and still posing a risk to lots of big employers and small firms that want to grow but can't afford to. At Company Check, we're keeping an open mind to how well today's announcement will help."
"I was pleased to see The Chancellor announce rate relief for small businesses. Raising the lower-rate threshold to £15k and the higher-rate to £51k is a strong signal to British businesses to get on and deliver growth."
Ben Guy, MD, Phoenix Group
At the end of last year, 73% of the businesses surveyed predicted growth in 2016, but does this optimism remain after today's announcement?
According to the companies we asked, the result was mixed; sceptical but, mostly, positive. Tell us what you think? Did The Chancellor's UK Budget 2016 deliver for Britain's businesses?
Image credit: "John Baker's Bradford Businesstasche mit" (CC BY 2.0) by  spera.de